Weston Collective : Reset and Recharge for 2020 
Come along to the Sovereign Shopping Centre on Saturday 25th January and meet some of the wide ranging holistic/spiritual practitioners of Weston-super-Mare who can help you nurture and treasure your well-being. I'm very excited to be taking part in the first well-being event of Weston Collective, showcasing one of my favourite healing therapies –  Usui Reiki.  I'll also be happy to help you answer questions on any other holistic/spiritual well-being puzzles you may have.  Mini-treatments will also be available in Indian Head Massage and Seated Massage alongside many other delights.  Looking forward to seeing you there x

Always a very popular event, why not come along and enjoy the relaxing atmosphere, experience a treatment you've wondered about, listen to a workshop and find answers to some of your curiosities… all with a cuppa of course!!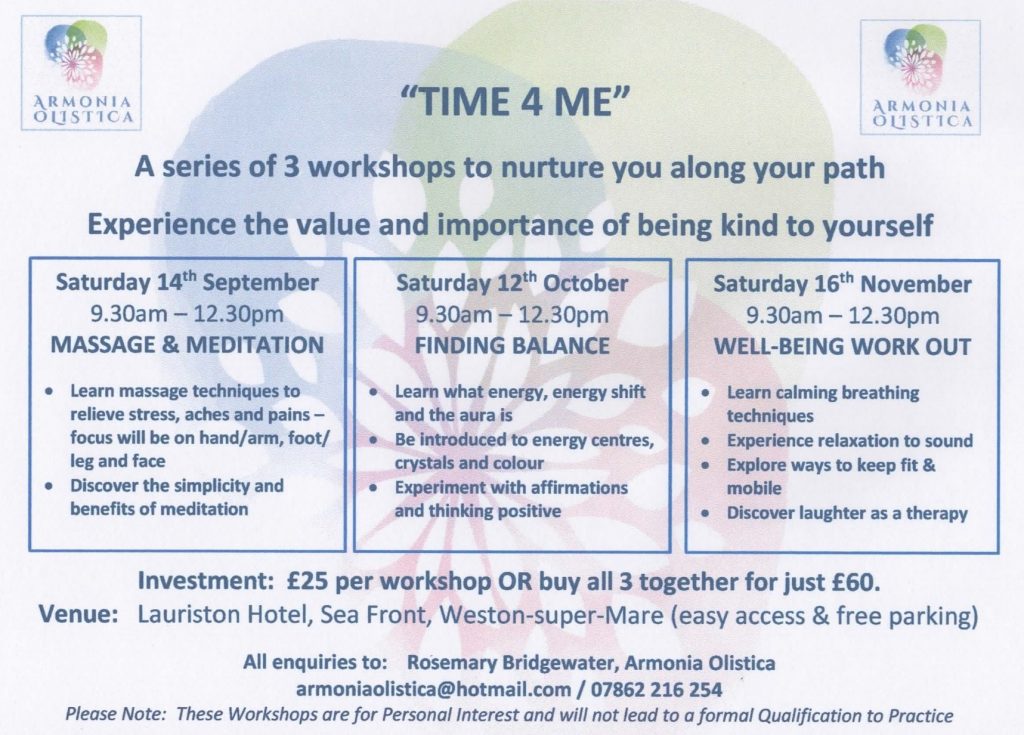 Please Note:
These workshops do not offer practitioner level training – they are for personal interest and will help you be kinder to yourself and those close to you
Usui Reiki Training at Armonia Olistica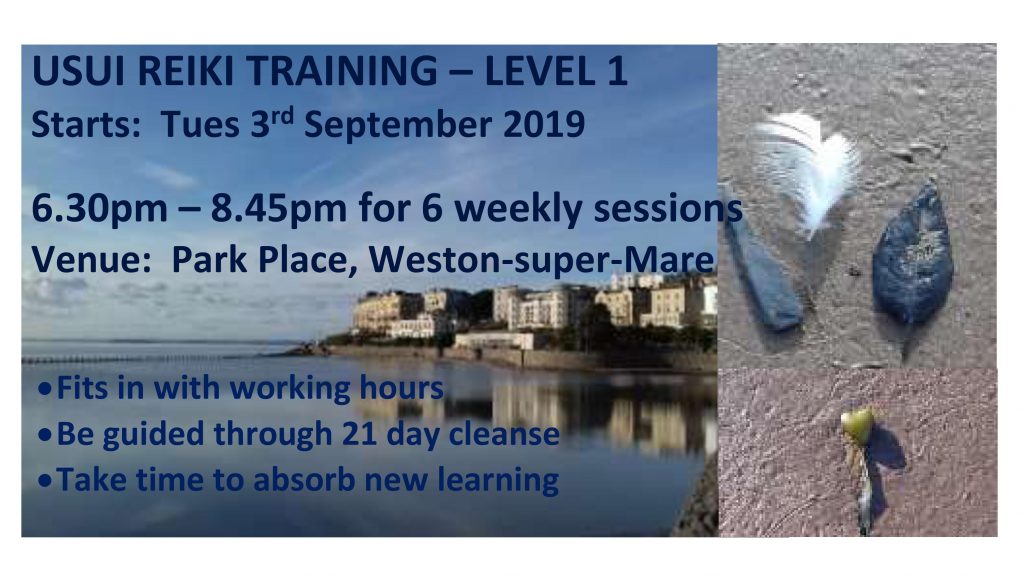 Sound of Grace – Find Your Own Voice
I've decided to join this group of ladies who over the course of the next six months or so will be exploring the use of meditation, chant and mantra in helping us find our own voices.  It sounds like an inspirational and transformative programme for those of us ladies who are looking to develop authenticity, confidence and wisdom.  I've done a bit of work with chant and meditation so I'm looking forward to working with Sarena Mason on this.  Sarena's a very experienced lady, full of wit and wisdom, so why not take a look at her website if you're curious about using sound and mantra https://birchmoon.co.uk/.  The course starts next May (the 19th) … not 100% sure what I'm letting myself in for but I know it will encourage and progress me along my path.
7 – 12 September – Barnutopia, Wales  :  Working to Recovery's Mental Health Summer Camp
Happy to say I'll be attending this event offering short sessions of massage, reiki and chakra balancing/healing with crystals.  This is a very friendly, informal, truly international event with lots of workshops as well as various other therapy tasters available.  It's an ideal place for those who know people who've got or have experienced mental health difficulties, for those who support people with mental health issues or for those who're just curious.  It's a place for people of all ages and all levels of experience.  It's worth going just for Mad Pride night alone – where everyone on the camp is invited to recite poetry, sing music, dance, act, do stand up comedy  – anything like that.  It's great fun and it's amazing to see how much more relaxed and confident people become between arrival day and last night.  Well worth a visit!!
Sunday 25 June and Sunday 2 July :  Magical Garden Fete, Worle – this is one of those events you should really add to your bucket list simply because it's got to be the most stunning private garden you'll ever see in Weston-Super-Mare. It's a hidden treasure upon the hillside close to Worlebury Golf Club and apart from live music and wonderful home made refreshments, I'll be one of the therapists offering tasters of healing with crystals.  Others available will be reflexology, Indian head massage, iridology and angelic reiki.  Entrance is only £2.50 and refreshments are very reasonably priced … do try to come along.